โปรตีนพืช Plantae FOR MOM รสชาติ Red Berries จาก Plant-Based PEA Protein Collection เหมาะสำหรับคุณแม่หลังคลอดที่ต้องการเพิ่มหรือเร่งน้ำนม และ ลดน้ำหนัก
Protein Plantae FOR MOM, Red Berries flavor from PEA PROTEIN MOM COLLECTION, suitable for postpartum mothers who want to increase or accelerate milk and lose weight.
How To Store: Once opened, should be consumed within 6 months. Close the lid tightly. Store at room temperature and avoid exposure to sunlight or high temperatures.
How To Eat:Dissolve 1 scoop of the product into 200 ml of water (adjustable amount of water). Put in a shaker bottle to shake only. More delicious when brewed with cold water.
ADVANTAGES FOR EATING PEA PROTEIN FOR MOM
1. Protein  from green peas that helps restore muscles and build strength
2. Reduces hair loss
3. Contains 9 essential amino acids to help balance hormones and the body
4. Contains 5 types of LACTATION ingredients that help in accelerating milk
5. Helps to reduce the weight of mothers after giving birth
6. Plant protein, no meat ingredients
7. Contains antioxidants from 3 Superfoods which helps take care of the body
1 bucket = 500g
1 bucket = 13 serves
1 Scoop = 140 Kcal
1 Scoop = 16g protein
2 Scoop = 32g protein
3 Scoop = 48g protein
Energy from fat 10kcal
Ingredients:
PEA PROTEIN 14,430 mg
LACTATION BLENDS (BANANA FLOWER POWDER, DATE PALM POWDER , FENUGREEK EXTRACT, FENNEL POWDER) 3,775 mg
RED RASPBERRY POWDER 3,670 mg
STRAWBERRY POWDER 2,202 mg
BROWN RICE PROTEIN 2,000 mg
CRANBERRY POWDER 1,468 mg
L-LEUCINE 700 mg
L-ISOLEUCINE 500 mg
L-VALINE 500 mg
VITAMIN C (ASCORB C ACID) 60 mg
VITAMIN E (DL-ALPHA TOCOPHERYL ACETATE) 10 mg
VITAMIN A (ACETATE) 2 mg
VITAMIN D 2 mg
FOLIC ACID 0.2 mg
VITAMIN B12 0.2 mg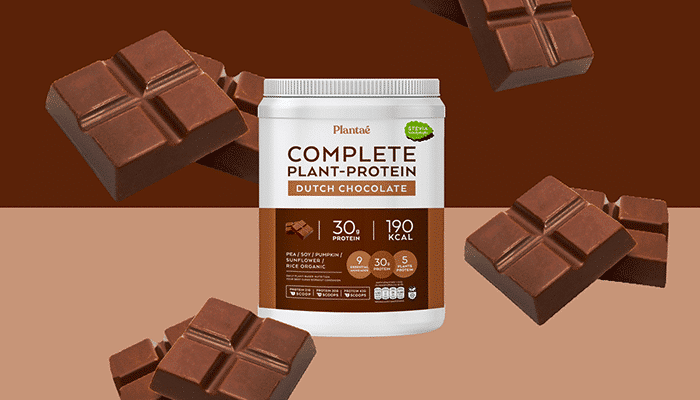 ลูกค้า #1
เป็นครั้งแรกที่ได้ลองทานโปรตีนจากพืช ก่อนสั่งก็ลองหารีวิวเยอะมาก สุดท้ายก็ตัดสินใจลอง Plantae รสดัชช็อกโกแลต พอลองชิมก็พูดได้คำเดียวเลยว่า "อร่อยมากกก !" ดื่มง่ายมาก ๆ ไม่ฝาดคอ แถมยังเป็นตัวช่วยในการควบคุมน้ำหนักของเราด้วย ประทับใจมากค่ะ
ลูกค้า #2
โปรตีนจากพืชนี้อร่อยมาก ดื่มง่ายมากๆ ไม่มีกลิ่นพืชและไม่หวานจนเกินไป ชอบและประทับใจมาก! แตกต่างจากแบรนด์อื่น! อีกเหตุผลที่ชอบแบรนด์นี้ก็คือ 1 ซองมีโปรตีนสูงถึง 30 กรัม!
ลูกค้า #3
ตอนแรกกังวลว่ารสชาตจะฝาด ๆ เพราะเคยลองดื่มนมที่มีโปรตีนสูงหรือเวย์โปรตีน ซึ่งรสชาติและเนื้อสัมผัสค่อนข้างทานยาก แต่โปรตีนของ Plantae น่ารับประทานและดื่มง่าย รสชาติไม่ฝาดเหมือนยี่ห้ออื่น รู้สึกเหมือนกำลังดื่มนมสตรอเบอร์รี่แท้ๆ! ดื่มแล้วรู้สึกสดชื่นมีพลังในการออกกำลังกายมากขึ้น เลยให้ครอบครัวลองทานโปรตีนนี้และทุกคนก็ชอบมาก! ขอบคุณที่ผลิตสินค้าคุณภาพดีแบบนี้ :) จะสนับสนุน Plantae ตลอดไปค่ะ